Software Architect, developing web apps on .Net, specially ASP.NET MVC Core, web apps as well as webapis. Specialised in Cloud development on Azure, and developing corporate WCMS applications, using Sitecore, Kentico or Umbraco systems. Lately, responsible of delivering several Sitecore projects with SXA framework and MS Dynamics CRM synchronization features. DevOps Engineer, setup CI/CD environments with Azure DevOps Build & Release pipelines.

Feeling more comfortable working in the backend: CRUD, DTO, DAL, UML models, Code generation and server & DB architectures, mainly focused on Microsoft technologies (C#, SQL Server), but enthusiast about learning other new technologies.

Currently, learning new things everyday in the Sitecore universe.
Top technologies
.net
.net core
c#
asp.net-mvc-3
asp.net-mvc-4
asp.net-mvc-5
asp.net core
asp.net core webapps and apis
sitecore
umbraco
sql
sql-server
visual studio
svn
git
windows azure
Azure DevOps
Docker
varnish
cloudflare
newrelic
teamcity
bootstrap
responsive web
wordpress
WPO
page speed
yslow
elearning
scorm
open badges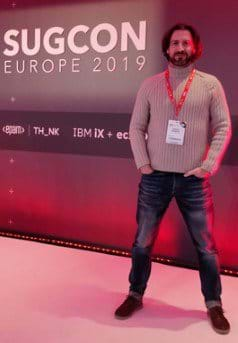 Developer by vocation, father by devotion and amateur chef. I even practice some sport in my spare time, mainly tennis, and run away to the mountains for skiing whenever I can.
I enjoy doing things the right way, and get excited with every byte or ms I get cut from websites, applying WPO techniques.
Currently, Sitecore Architect at Kabel.